inriver is moving towards more incremental, smaller releases to be able to accommodate our customers in a better and faster way. With smaller, more frequent releases, inriver will be able to increase the quality and transparency of the releases and be able to identify and mitigate any erroneous behavior that may be caused by the release much faster. Please note that larger features and/or changes that deem to have a strong impact on customers and partners will of course be communicated in advance.
Honorable mentions
Before the list of deliverables is presented, we have some honorable mentions in the release that needs some special attention here in the release notes :)
We are happy to say that we have now included Inspire in inriver PIM. Inspire, featuring ChatGPT AI, offers a solution for generating product descriptions, social media posts, and SEO keywords. This tool utilizes structured data from inriver to create precise, compelling, and original product text with minimal effort. The technology behind this solution is AI-driven, offering an innovative and efficient approach to content creation. If you want to know more about the feature and activation of such feature, please check the page https://community.inriver.com/hc/en-us/articles/8686669024156.
Further on, the query editor in Enrich has now been upgraded to also support OR between the field conditions for the entity type. This upgrade comes with the limitation that you can either have OR between all field conditions or AND between all field conditions, it's not possible to have combinations within the field conditions. The support for OR has been added to field conditions only-not when adding a condition for related entity type or between any other types of conditions. There you will instead see a fixed AND operator.
We have also added the possibility for the Enrich user to cancel on-going jobs. This has been a very-much sought-after feature to prevent the user from being blocked if e.g. a misconfigured job has been triggered and forcing the user to wait for the job to finish before the work can be resumed.
We have also included in this release execution metrics of the environments extensions visible in Control Center. The metrics show the response time, number of successes and failures, and information split per service. Please note that a more in-depth article explaining the metrics visible in Control Center will come soon.
Last but definitely not least in the honorable mentions, we have now added support for upsert in REST API. As a user of REST API, I want to be able to insert or update (upsert) entities and links in batch via POST /api/v1.0.0/entities:upsert. The API client does not need to be aware of system/entity id's since any field value may be used a key to identify existing entities. It's possible to upsert multiple layers of linked entities in one go (with optional deletion of stale links). Furthermore, the upsert endpoint also lets the client set specification data, field set and segment.
Request body example: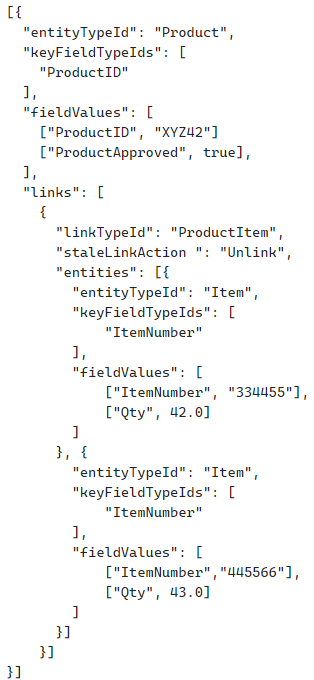 Improvements and/or enhancements for Enrich:
Improvements and/or enhancements for REST API:
As a user of REST API, I want to have endpoints to be able to access model-specific endpoints like:

GET/POST/PUT/DELETE EntityTypes
GET/PUT FieldTypes
POST/PUT/DELETE Languages
POST/PUT/DELETE Fieldsets
GET/POST/PUT/DELETE Categories
GET/POST/PUT/DELETE CVL
GET/POST/PUT/DELETE Completeness
GET/POST/PUT/DELETE Restricted Fields

As a user of REST API, I want to have endpoints for ChannelMessages and ConnectMessages to be able to track the messages.
Correction by creating a new endpoint v1.0.1/entities:createnew for fixing issues with:

If the user isn't assigned to segment 0 (default segment) it's not possible to create the entity in another segment
If segmentId is omitted an error is returned (unless the user is assigned to segment 0)
When supplying segmentId a Connect event (EntitySegmentationChanged) is fired - which is wrong

Correction for documentation regarding user provisioning for only provision roles and permissions in an SSO scenario (and only in that scenario).
Correction for If you send a request to v1.0.0/query (REST API, in an NDL environment) with a DataCriteria that contains a FieldTypeId that links to an integer field and operator is equal to "IsNotEmpty" you won't find entities that have the value 0. If you do the same request in an ODL environment you will find the entity.
Correction for documentation:

Changed 'ProducesResponseType' CreateComment` from list to single 'CommentModel' (this only effect swagger documentation)
Changed 'ProducesResponseType' on 'GetImageConfigurationDetails' from single `ImageConfigurationDetailsModel' to list (this only effect swagger documentation)
Renamed 'GetFields' to `UpdateSpecificationValues'
Turned all fields in 'EntityBundleModel', 'LinkCriterionModel', 'FetchLinkObjecsModel' to properties
Improvements and/or enhancements for Control Center:
As a user of Control Center, I want REST API Extension actions to be logged in Control Center logs
As a Control Center user working with the fields of an entity in the model, I want the ability to see the FieldTypeId parameter in the list of fields so that I can more easily understand what field to work with.
Correction for Control Center when the user is unable to save more than one row of name and description for a FieldSet after first save
Please note that input validation for HTML templates is enforced - restricted strings are system.io, wwroot and stacktrace. Uploading an HTML template containing these strings will trigger a "Not Acceptable" error. This validation will be enforced via Remoting API soon as well.
Improvements and/or enhancements for Syndicate:
As a user, I want Coalesce to allow me to add the same field multiple times, So I can have another language as a backup. Read more about Coalesce function here.
As a user, I want to schedule my syndications inside Syndicate, so I don't have to go to control center to do so. Read more here.

As a user, I would like to be able to get the resources set order in Enrich, so I can use my own sort order to prioritize my images in syndications.

Read more here

.
Improvements and/or enhancements for Plan & Release:
Correction for Items in Plan & Release that are excluded from Node should be greyed out and marked as "excluded".
Improvements and/or enhancements for Planner:
Correction for corner-case when the exported file contains headers but no values.