SAP Commerce Cloud is a Platform-as-a-Service (PaaS) proven commerce solution, part of the CX platform. This article describes the inriver SAP Commerce Cloud adapter and its commercial benefits:
Ease of use
Configurable mapping needs no additional programming.


Out of the box
Requires zero development effort.


Minimal maintenance
A trusted inriver partner provides online support, version updates, and upgrades.


Reduced complexity
Product types and attributes are modeled in inriver - no need to model the characteristics of the product model in SAP CC.


Impactless
There is no impact on SAP Product Content Management (PCM)
Architecture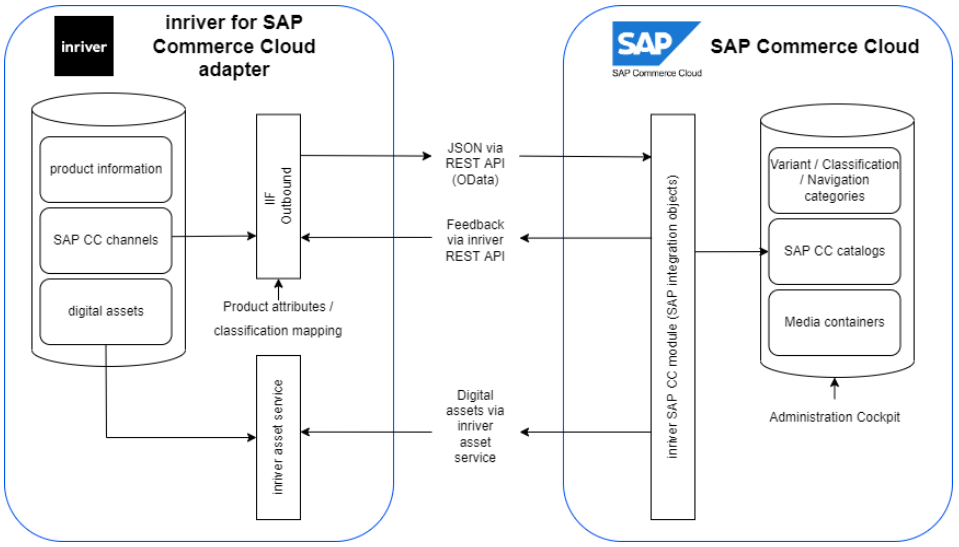 The solution is scalable, flexible, easily expandable, and future-proof due to the following characteristics:
The adapter is realized using the SAP Integration REST API framework.
The adapter supports the SAP Commerce Cloud category classification model's use of generic products and variants.
At a glance
Extended SAP PCM functionality
The SAP PCM cockpit offers PIM functionality, enabling cockpit end-users to manage and structure product information and catalogs. Using this adapter to integrate inriver with SAP Commerce Cloud, product information is immediately available for the SAP Commerce platform.

The SAP Commerce Cloud adapter increases the value of SAP Commerce for organizations by adding the power of inriver's flexible, scalable PIM. Organizations using the adapter can quickly start synchronizing data between inriver and SAP Commerce Cloud without costly and time-consuming deployment or maintenance.
Member of the inriver IIF adapter family
The SAP Commerce Cloud adapter is one of inriver's platform adapters based on the inriver integration framework (IIF). The IIF ensures that each adapter can interface with a target system independently of how the inriver PIM elastic model is implemented. As a result, all these adapters can be easily used, requiring only configuration.
Features
Synchronize product data at scheduled times or on demand. You decide whether to publish the full data set or just the latest updates.


Supports the SAP Commerce Cloud category classification model for simple products and generic products with multi-dimensional product variants.


Easy mapping of inriver model fields to SAP Commerce Cloud product features, feature lists, and hierarchical product navigation structures.


Support for SAP Commerce Cloud product relations (cross-sell/upsell, related products, and more) and bundling and synchronization of product groups.


Support for multi-lingual product information and inriver's product specification model ( such as ETIM technical specification data).


Connect multiple SAP Commerce Cloud product catalogs at once with inriver's flexible outbound channels.