To support Ukraine during these difficult times, inriver has joined the 100 Charity Miles challenge.
Beginning April 2022, inriverians will have the opportunity to aid the people of Ukraine by using the Charity Miles app. The Charity Miles Challenge consists of walking 100 miles to raise money for Ukraine. This challenge will continue all year because it is about raising money for the benefit of Ukraine and not an endurance test. We do not intend, nor want, this to be a race. Rather it is an opportunity to rally around an important cause as a company to raise money for those in need.
The money raised will be donated to UNICEF's Ukraine fund. This fund provides children in Ukraine with healthcare, psychosocial support, clean water, and nutrition.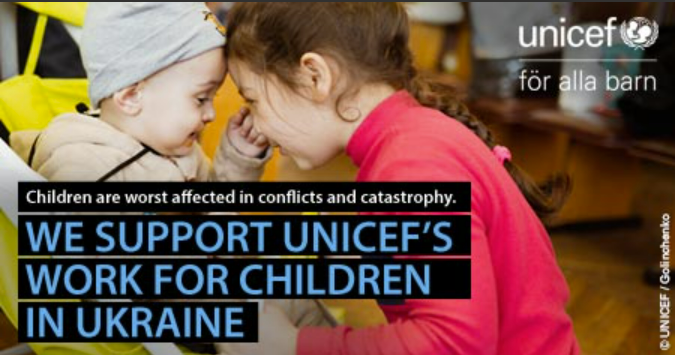 In addition to this initiative, inriver has donated SEK 100,000 to UNICEF's Ukraine fund.
Why UNICEF? There are many reputable organisations that are doing important work in helping the Ukrainian people during this conflict. As inriver, we believe in UNICEF's mission to scale up life-saving support for children and their families across Ukraine. During the month of March, all gifts to UNICEF Sweden were doubled by the Akelius Foundation. As a result, inriver's donation provided UNICEF with a total of SEK 200,000.
Let us all come together to give our support during these tumultuous times of conflict.
"No act of kindness, no matter how small, is ever wasted."
– Aesop