This article is a high-level description of how the inriver REST API works and the benefits of using it.
Benefits of a REST API
The inriver REST API has multiple use cases. For instance, you can use it to:
Build integrations in any code language, integrating inriver with other systems such as CMS, e-commerce, and ERP.
Customize the interfaces within inriver, providing a strong framework for HTML templates like Application Templates or In-Context Editing.
Extend Enrich PDF/Preview templates with information from other entities.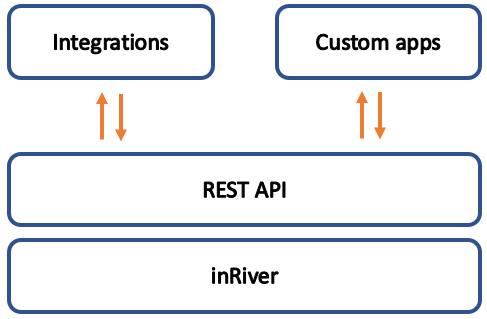 Trigger syndications via REST API
It is possible to trigger syndications via the REST API, an additional option to triggering them manually in the Web Portal. This allows for building more automatic syndication processes where an external snippet of code or a schema-based extension can call and trigger the syndication in a given time interval, or on some event.
Relay system events
A customer or partner that wants to build most of their integration code in another language than C# can set up listener extensions that relay any of the events that are of interest to that specific integration.
For instance, they can set up a ChannelListener if the integration is built around a channel. A ChannelListener is a type of inriver extension. The listener can then relay the channel events that it receives to an external endpoint.
The external endpoint receiving the events is hosted by the customer or partner themselves. As long as the ChannelListener can communicate with the endpoint, often using a web request of some sort, the customer or partner can use any tech stack they prefer. Any additional calls needed to facilitate the integration can be made using the REST API, which is by design code-language agnostic.
Good to know
The REST API has a 10 concurrent request limitation. The limit is per environment and IP address.
Questions
If you have any questions post a comment below.
Further reading