This article describes how to edit information about an Activity in the Planner application.
How to edit information about an activity
In Planner, click Overview to open the Gantt chart that shows the list of Marketing activities.


Find the Activity that you want to edit in the list of activities on the left side of the Gantt Chart.


Click on the Name of the Activity in the list.


You are redirected to a new page showing the Activity information split up in different tabs.


Click on the Details tab.


A form is presented showing all the fields for the Activity. Make changes to the fields that you want to update.


Click Save in the top right part of the page to save the changes.



Note: The save button is only visible if there are changes made to any field in the form.

A confirmation text is presented to confirm that the changes have been saved.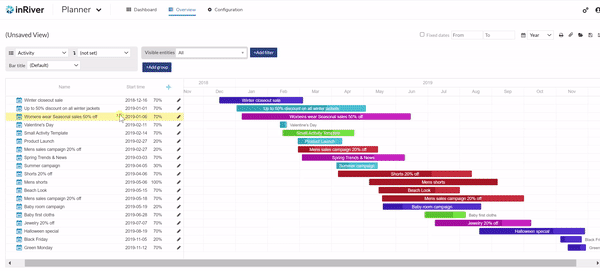 Further reading