This article describes how to search using the Query Editor functionality in the restyled inriver interface.
About the query editor
The Query Editor is used to build complex and more exact searches. This includes searching over data conditions, links, completeness levels, and specifications. You can also add, edit, and save queries and share them with others.
Accessing the query editor
In the restyled Enrich, the Query Editor is available in the top navigation toolbar and in the work area section of any entity overview. Read more in this article.
To search using the query editor
In the

Web Portal > Enrich, click the Query Editor icon in the top navigation bar to open the Query Editor.

In the Query Editor window, select an Entity Type to use in your search and add conditions to your search by clicking the query conditions.



Click

the

Save

icon

to save your query to a work area.

Enter a query name in the Name new query field and select if to save the query in My work areas and queries or Shared work areas and queries, then click Save.
Query conditions
In the Query Editor, select an entity type to use in the search and add conditions by clicking the query conditions:
Data condition (additional data to search on for the EntityType)
Relation condition (e.g. Links to other Entities exist or don't exist)
Completeness condition (e.g. a specific Completeness Group or Rule being complete or incomplete)
Specification condition (searches a defined Specification template and any Specifications fields in that template)
Specifications
The Query Editor provides an easy way to add simple or complex queries to search any aspect of the specification data, providing a better overview and increased accessibility to specifications. This is especially useful when working with large numbers of attributes.
Notify me
To support an efficient workflow, you can set a notification for when you need to take action on a particular query.
You define the criteria by using the Query Editor, creating a notification for you when the exact criteria have been fulfilled. You can choose to be notified by email and/or by generating a new task.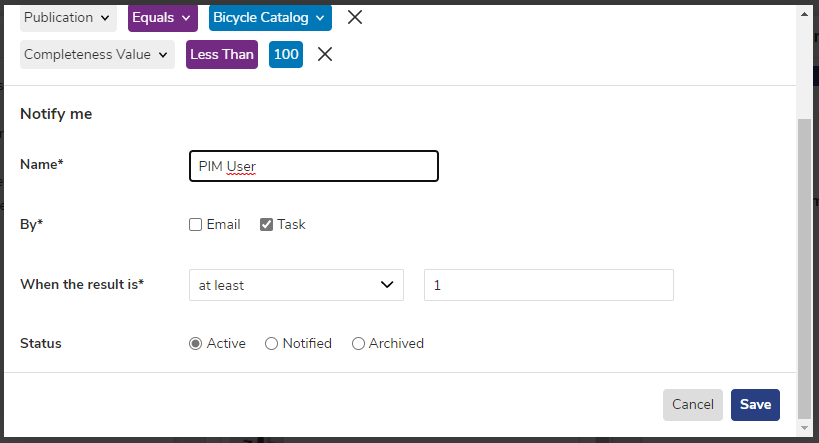 Note! If you want to set a notification, you need to limit your query. Notifications can only be set for queries with up to approximately four conditions, due to a character limitation in the database.
Search results: card view
In Enrich, search results are displayed in a work area where the different entities appear as entity cards.
Search results: table view
When working with several entities in a single work area, use table view to get a better overview.
You can toggle between showing products as entity cards or as a table. The table view also adds the possibility to present, group, sort, and select a set of entities from a list.
Using the group function, you simply drag and drop the field you want to group into the grouping area at the top of the table. From here it is also possible to sort the table by any field. It is also possible to select individual table rows as well as groups of rows from the table view.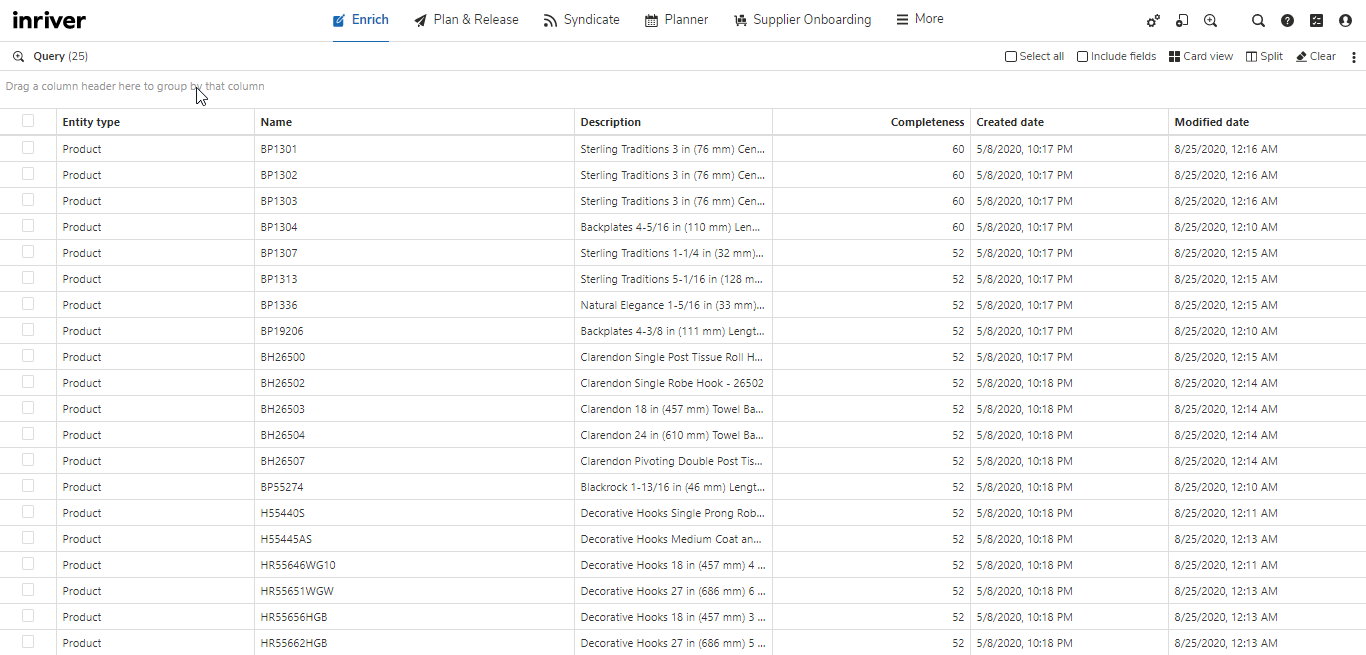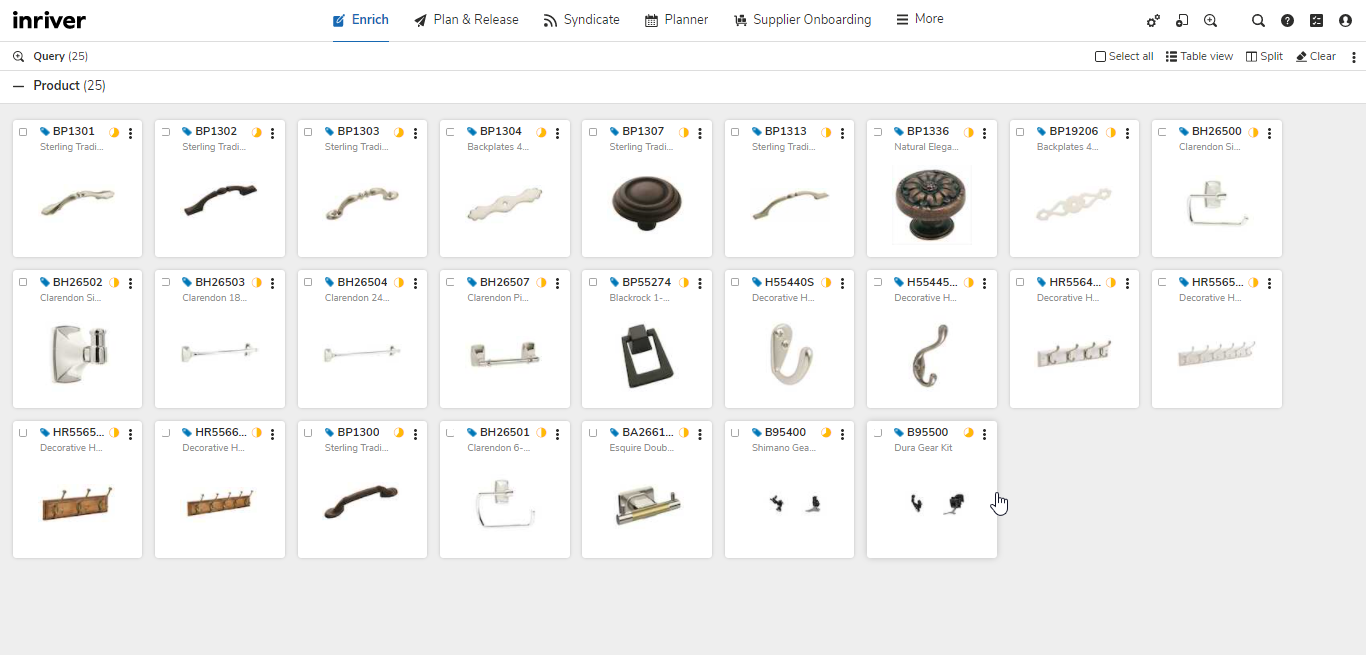 Table view and card view in Enrich
Multi-select on a search result
It is possible to select a single entity, multiple entities, or all entities (check-box style) from a search result or a work area and simply drag-and-drop the selected group into any destination - e.g. a new work area or a channel node for publishing to sales channels.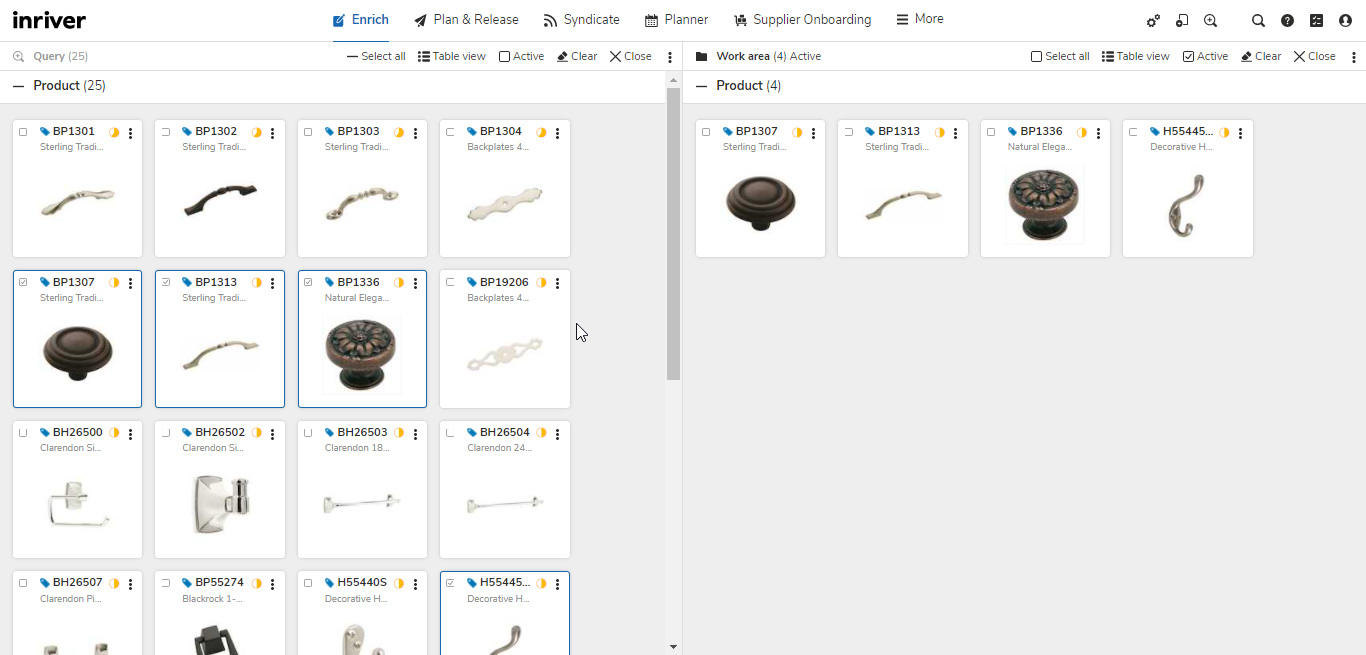 Additional tips for searching many work areas
It is possible to make use of web browser functionality to emulate the rich client behavior. You can open as many browser tabs or windows as needed:
Start with one Enrich tab, perform your searches, or open a work area. Split the screen to get two results.
Now, middle-mouse-click the Enrich title or right-click and select the Open link in a new tab:

Now you have a second enrich tab where you can open another 2 search results. You can do this as many times as you need to.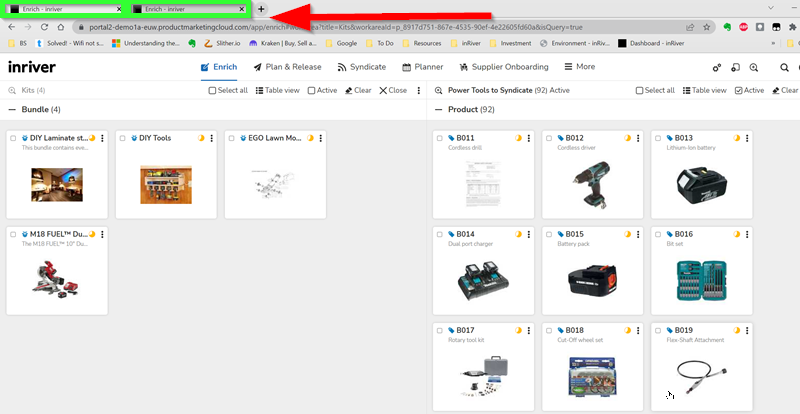 Using Chrome and possibly other browsers you can also organize your result windows into groups.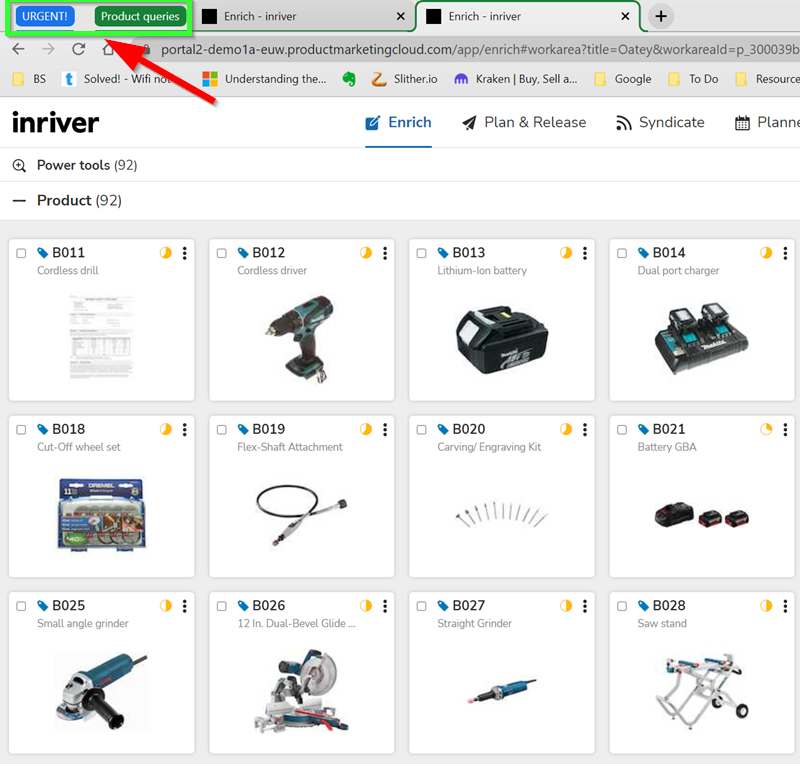 Further reading