This article describes the Tasks icon and functionality in the inriver Dashboard.
About the inriver dashboard
The inriver Dashboard replaces the current portal landing page. The Dashboard provides easy access to inriver functionality and applications. The top navigation bar and the dashboard widgets give you an overview of your content. Read more about the inriver Dashboard in this article.
Top navigation bar
You can access the inriver core and add-on functionality as well as custom-built applications from the top navigation bar. The available inriver functionality depends on your license.
The top navigation bar has two parts, the left-hand side menu bar (1) with a list of available applications and the right-hand side toolbar (2) that provides access to key features.

Read more about the top navigation in this article.
Tasks

When you click the Tasks icon, a small window opens that shows the tasks that are relevant to the currently logged-in user.
The tasks are listed under the headings Tasks assigned to me, Tasks created by me and Group tasks and they are are sorted by status under each heading. You can also see how many tasks there are of each status.
The list of tasks for each status shows task name and description.
To get more information about a task and to open the task in Enrich, click the listed task.
Tasks & notifications
You can access the Tasks & Notifications widget from the Enrich dashboard.
Notified notifications are indicated with a red dot.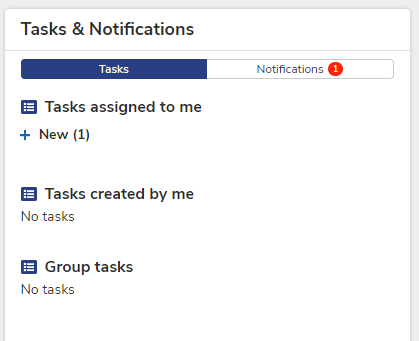 Accessing all your tasks
When clicking the Tasks icon from the inriver Dashboard, the Tasks window displays a maximum of ten tasks under each heading, sorted in descending order.
To see a full list of all your tasks, open Tasks from Enrich or Plan & Release. There, you can click Show all to open and view a list of all your tasks.
Further Reading