This article describes the User details icon and functionality in the inriver Dashboard. 
About the inriver dashboard
The inriver Dashboard replaces the current portal landing page. The Dashboard provides easy access to inriver functionality and applications. The top navigation bar and the dashboard widgets give you an overview of your content. Read more about the inriver Dashboard in this article.
Top navigation bar
You can access the inriver core and add-on functionality as well as custom-built applications from the top navigation bar. The available inriver functionality depends on your license. 
The top navigation bar has two parts, the left-hand side menu bar (1) with a list of available applications and the right-hand side toolbar (2) that provides access to key features.

Read more about the top navigation in this article.
User details
When you click User details (

), a small window opens with information about the currently logged-in inriver user and the option to sign out from the system.
Provided that the logged-in user has access to more than one inriver environment, it's also possible to see the Customer name and currently used environment. To switch to another environment, click Change environment.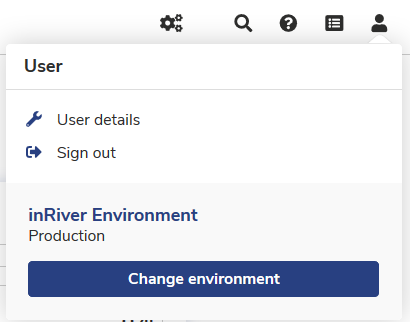 The User details window has three tabs:
User details
Languages
Options
The User details tab is selected as default. This is where you find information about the Username, First name and Last name of the currently logged-in user.
The Language tab is where you change the language settings of the Interface language, Data language, and Model language.
The Options tab is where you can change the environment and reload the cached model in the Web Portal.
Remember to click Save to save your changes or click Cancel to leave the User details section.
Further reading