This article provides an overview of the restyled Enrich user interface.
About the Restyled inriver Enrich
To empower user efficiency, many functions that are frequently used in Enrich and Plan & Release have been improved and the interface has been restyled. The aim has been to create a seamless look and feel when switching between Enrich, Plan & Release, and the Dashboard.
Overview
Below is a screenshot of the restyled Enrich dashboard.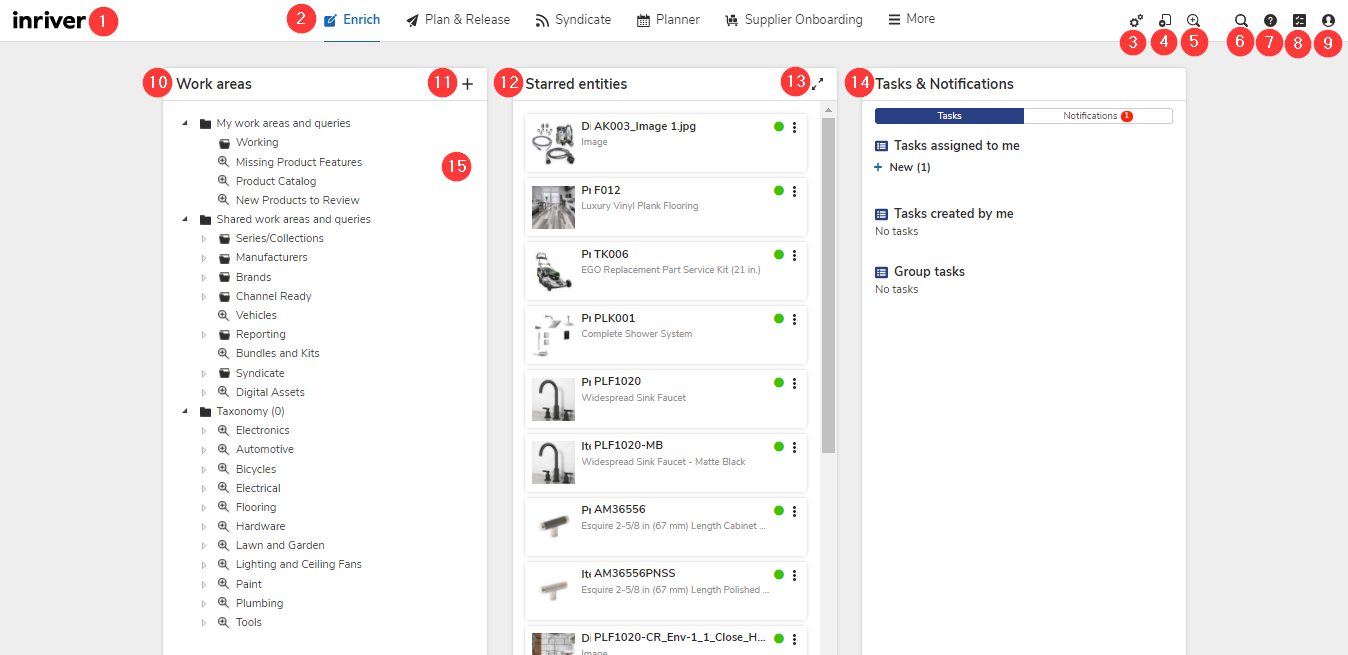 Overview details
Click the inriver logo to return to the inriver Dashboard.
Click the available inriver functionality to open them.
Click the Jobs icon to open a list of the most recently run jobs.
Click the Create new entity icon to open the Create new entity widget.
Click the Query Editor icon to open the Query Editor and search for content.
Click the Quick Search icon to search for entities.
Click the Community icon to open the inriver Community in a new tab.
Click the Tasks icon to open a list of tasks relevant to the currently signed-in user.
Click the User details icon to log out or edit information about the currently logged-in user.
The Work areas widget lists your saved and shared work areas and queries.

Personal work areas and queries are saved under

My work areas and queries.

Work areas and queries that you share with other users are saved under

Shared work areas and queries

.
Click an

entity card

to view and edit entity information.

Click the Open empty work area icon to

open an empty work area from the Work areas widget.

The Starred entities widget lists all your starred entities.
Click the View starred entities icon to

show a list of all your starred entities in card view.

The Tasks & Notifications widget lists all your tasks and notifications.
Export, Rename or Delete workarea directly in the navigation menu. For dynamic work areas (Query) you can also click to Edit query.
Further reading