This article describes the Resource Entity Lightboard where you can get a full overview of the metadata on the image while editing your Product Entity.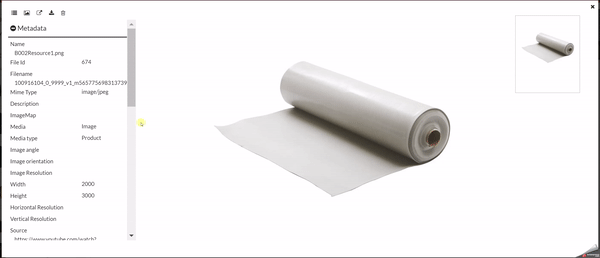 From the Media Tab you have the ability to click on the image and get the full asset preview with all metadata on the resource. From here you can not only see all the information about the image you can also download it using the image navigation bar.
Image navigation bar
Overview

The Overview menu directs you to the full Resource Entity 360 overview. See the full description about the image Overview here.
Set as Main Picture

With the this specific image to Set as main picture. Learn about Main Picture here.
Open in Application

Opens the image in associated application. Read this article to set your default app.
Download

Download the image in different formats.
Original
Thumbnail
Preview
SmallThumbnail
Delete Resource

Delete the Resource Entity from inriver PIM.
Note! This will delete the Resource Entity and all the relations to other entities. Such as Products, Tasks etc.
Expandable side menu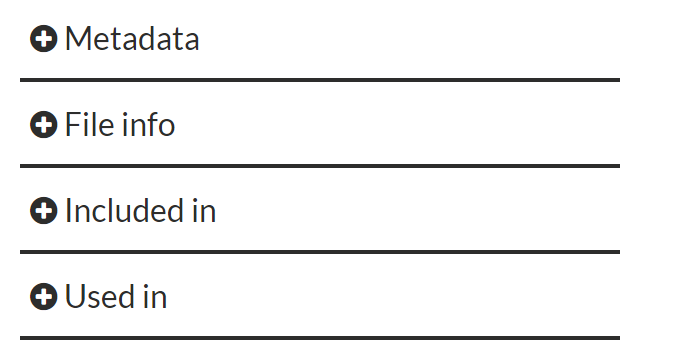 With this menu you are able to easily view all metadata on the specific Resource Entity.
Metadata
Shows all information from the Details Tab in the Media Entity Overview. Learn more here.
File info
File Size
Extension
Created
File ID
Filename
Included in
Shows what other entities the Resource Entity is associated with.
Used In
Shows the channels and publications where the resource is used and published to.
Learn more
Don´t have an inriver license yet?
You are welcome to Contact us or Book a demo with us.