Between new versions of the inriver Print plugin for InDesign and different versions of InDesign, the inriver cloud service, and inRiver on-prem, users sometimes experience issues with inriver Print.
The below article provides a troubleshooting guide to help you if the inriver Print plugin disappears on your computer or if you can't install the plugin.
Issue
The inriver Print plugin is installed on your computer but you either can't find it in InDesign or it disappears after some time.
Potential causes
The cause of this is usually a mismatch between versions of InDesign and the inriver Print plugin. You have either installed the 2020 version of the plugin and a 2019 version of InDesign or vice versa.
If the wrong version of the plugin is installed, it will not appear in InDesign.
Solution
Verifying inriver Print version
If you installed the inriver Print plugin through Adobe Creative Cloud, you wont get an error if you install the wrong version. However, you can verify which version you have installed by using Anastasiy's Extension Manager. Using the extension manager you can see if the correct version of the inriver Print plugin is installed together with your version of InDesign.
Removing inriver Print
If the wrong version of the inriver Print plugin is installed, simply remove it by clicking Remove in the extension manager, as shown in the below screenshot.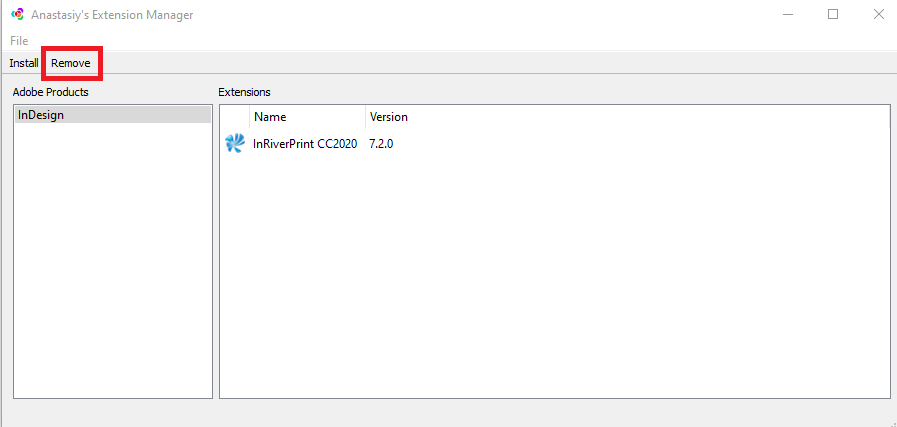 Installing inriver Print
Once you have removed the mismatching version of inriver Print, install the correct version of the plugin by following the instructions in this article.
Removing additional files on a Mac
Some Mac users might still experience the same issues or notice that the wrong version of inriver Print is visible in certain folders on their computer even after following the above instructions to ensure that they're running the correct version of the plugin. If that's the case, the following steps will help resolve the issue.
To remove inriver Print folders
Delete the following folders:

Mac HD/Library/Application Support/Adobe/CEP/extensions/com.ctrlpublishing.inriverprint
Mac hd/Applications/Adobe InDesign 2020/Plug-Ins/CtrlPublishing

Start and exit InDesign.

This starting and exiting is to notify InDesign's internal database that the plugin isn't available.

Install the inriver Print client again.
Start InDesign as usual.
Further reading