Welcome to your inriver community!
We are so happy that you are taking the first step as part of inriver Community!
This article guides you through all the new and updated functionalities and their benefits! Check them out and browse around. They are many!!
Welcome
The community landing page highlight essential information for all members and aim to ensure quick and relevant information at the right time. It is your single source of truth to inriver knowledge, training, and enablement, it all starts here! Enjoy!
Getting started
If you are new to inriver, check out the Getting Started section. Here you can read more about what PIM is, which functionalities you can find in inriver, how to prepare for your inriver project, where to log in, how to get support, and more!
Search for information
You can search for content on the start page or use the search field in the upper right corner on each page. The search result will show you Articles and community posts related to your search criteria.
Tips: Specify your search By Type and select Articles or community Topics see screenshot below: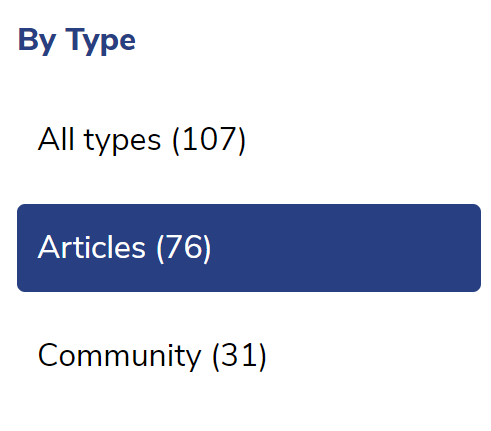 This should make it easier for you to find relevant content fast.
Learn how the search works here.
Get notified
If you are interested in a specific topic, Follow it to get notifications when it's updated. To get notifications, go to a section that you want to receive updates on and click Follow. Every time a new article is posted in this section, you will receive an automatic email notification. Read how to here.
News & updates
Community Highlights, Webinars, Announcements, Release Notes, Release Schedules, Newsletters and more!
News & Updates is our main communication channel in the community moving forward. Make sure you Follow this section to get notified when there is an update. Go to News & Updates.
inriver releases
Read about the scope of a release in the release notes. Follow inriver releases to get notified when a new release note article is published or when the deploy schedule is available.
inriver service status page
Stay updated on inriver Service Status by subscribing to the inriver Service Status Page.

Online community conversations
Connect, Discuss and Grow Together with digitally-minded professionals, like yourself, from across the PIM ecosystem. Share knowledge and create meaningful relationships within the inriver community.
Collaborate in real-time with other members, inspire, follow and join discussions. Join the conversations here.
Get help
Search in the Knowledge Base
Ask the community for Help & Help Others
The Support Team, inriver Experts, inriver Partner Champions, and many more are active and together monitor the topics below. We are all eager to help out so do not hesitate to ask. Post in:
Live chat
We have extended our Live Chat hours! Read more here and reach out.
Report an Incident
If you want to report an incident or have an urgent issue you can submit a ticket to our Support team. Click Get Help on the landing page. Read how to Create a Support Ticket.
Click your name in the upper right corner and then My activities to see the status of your own and your colleague's tickets. You can sort the tickets on a creation date or last activity and you can also filter tickets by status. If you have many tickets, you can use the search bar to find relevant tickets quickly.
Academy
Deepen your inriver knowledge and learn how to maximize your inriver investment! Check out:
Product ideas
Our community member´s Product Ideas are our driving force for continuous improvement. Inspire others, brainstorm together to build on each other's ideas and make them better. Share your ideas with us in Product Ideas.
Here you find Guidelines and instructions.
Now it is even easier to see what you have voted for. With an orange arrow pointing up:


How can I contribute?
Join the community discussions, ask questions and share your knowledge and expertise with others. The more we all give the more we will all learn and get!
Follow Product Q&A or another topic of interest to get notified when someone needs help.



Update your profile picture, simply follow these steps Updating / Changing Your Profile Picture in the Community.
Good to know
Further reading
Supported Browsers for inriver community