This article gives an overview of what PIM is and how it can be used to manage product information.
What is PIM?
PIM stands for Product Information Management. It is a business system for business users such as marketers, product owners, and product managers, which enables the creation of marketing and sales information for products.
In our online world, whether you're B2B, B2C, or both, it's up to your product content to do the talking for you. With a PIM solution, business users can streamline and automate the creation, enrichment, translation, and publication of product information and content. It's the key to providing an exceptional customer experience in a global, omnichannel market.
As foundational e-commerce technology, a PIM solution is at the heart of digital sales. It allows your team to move from product data to crafting compelling Product Stories. The below picture describes the product journey from data to story, a story that your audience understands.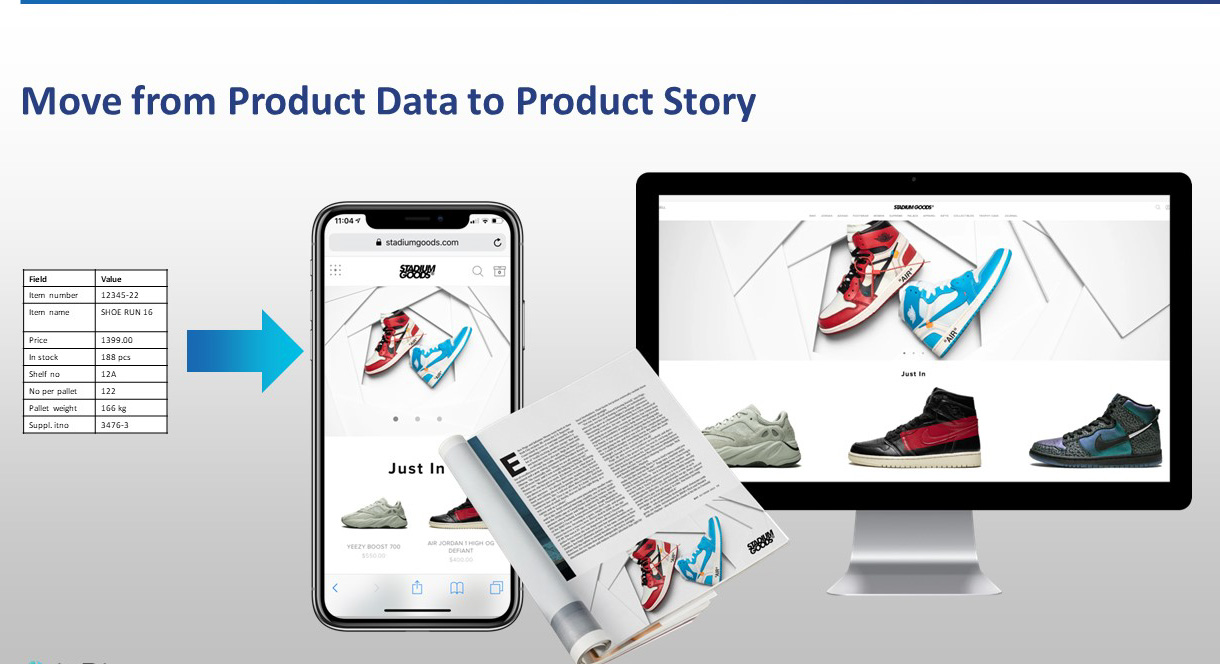 The PIM process
A PIM system supports the entire flow of marketing and sales information for a product. There are
five important stages:
Supply
In this initial stage, basic product data is extracted from systems like ERP, PLM, and CRM into the PIM system. In the case of a retailer, product data may also come from product suppliers.
inriver Enrich
In this second stage, you create a product 'story' for each product. Many different users will collaborate to produce the best possible product information by adding text, descriptions, images, videos, documents, specifications, and customer testimonials to generate the optimal content to make the product appealing.
inriver Plan and Release
In this third stage, the release strategy and timing for publication of the information is planned. This is the stage where the product marketers combine different products into assortments, groups, looks, showrooms, campaigns or other targeted offerings aimed at certain channels and customer segments or groups.
Publish
In this fourth stage, the product information is pushed to different channels, such as e-Commerce, mCommerce, Print, POS, advertisements, email marketing, and in-store displays to drive interest to the attracting and converting channels for the marketed products.
inriver Evaluate
Last, but not least, in this final stage it's all about monitoring your product's performance across all your channels. Through constant, smart monitoring of customer interactions, with digital shelf analytics, you see what's working and what's not. Clear, actionable data-driven guidance helps you drive conversions, grow your revenue and eliminate the guesswork.
Further reading
Get the datasheet and learn more about what Product Information Management (PIM) is in this article.