This article gives you a list of good practices when it comes to inriver environments.
How do I know which environment I am using?
The name of the environment that you are currently logged in to is visible in the upper right corner of the inriver Dashboard under User Details.
Provided that the logged-in user has access to more than one inriver environment, it's possible to see the Customer name and currently used environment. To switch to another environment, click Change environment.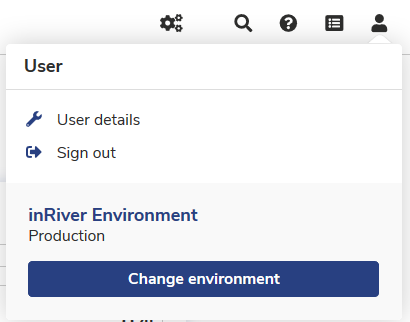 in the above screenshot the Inriver Environment is the Customer name and Production is Environment Name. See To Change Environment Name below.
Still Accurate? There are no character restrictions in the environment names. However, if the environment name exceeds 24 characters, the name is truncated and not displayed in full. To see the full environment name as a tooltip, you can hover above the truncated text.

Good to know
You can also customize the inriver user interface to indicate which environment (PROD, TEST, DEV) a user is logged into:
Read more about how to customize the Web Portal in this article.
To change environment name
In Control Center > Settings, check if the setting SERVER_NAME is available by entering SERVER_NAME in the search field.
If SERVER_NAME is not available, click Add Setting and add SERVER_NAME as a new setting.
If SERVER_NAME is available, click Edit to modify the text in the Value column. The value of the setting is the environment name shown in under

User in the Dashboard.
Note! If the SERVER_NAME setting isn't available, the (often long and technical) default name of the environment is shown.
To change between environments
If you have access to more than one environment, you might want to change from one environment to another.
In the inriver Dashboard, click User name in the upper right corner of the screen.
Click Change environment in the drop-down menu.
You will be directed to the environment selection page where you can select another environment.

When selecting one of the available environments you will end up on its Dashboard page.
Further reading