This article gives an overview of the functionality and features that you can access through the inriver Dashboard top navigation bar.
Note:

Depending on your role or the inriver license for your environments, you might not have access to all functionality or features described in this article.
The inriver dashboard
The inriver Dashboard replaces the current portal landing page. The dashboard delivers a new widget-based user experience. The top navigation bar has shortcuts to core and add-on functionality and tools and the dashboard widgets provide an overview of your content.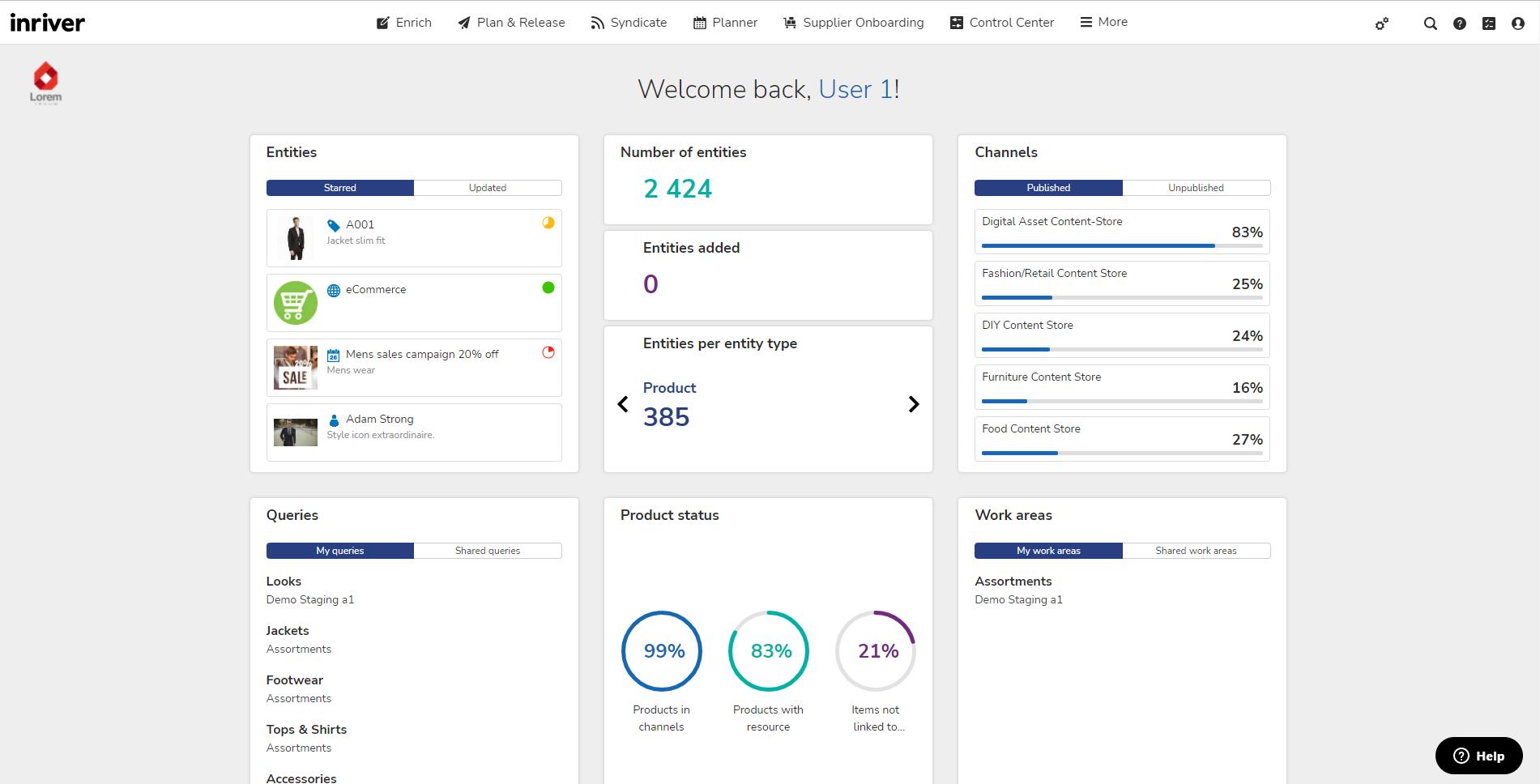 Top navigation bar
You can access the inriver core and add-on functionality as well as custom-built applications from the top navigation bar. The available inriver functionality depends on your license.
The top navigation bar has two parts, the left-hand side menu bar (1) with a list of available applications and the right-hand side toolbar (2) that provides access to key features.

Menu bar

The below list of inriver core and add-on functionalities are accessible from the menu bar:
Enrich
Plan & Release
Syndicate
Planner
Supplier Onboarding
Content Store
Note:

The list of available inriver functionality depends on your license.
If you have access to a lot of custom-built applications or if the browser window is too narrow, the functionalities and applications are listed as a collapsed menu.
Click the name of a functionality or an application in the menu bar to open it. To return to the Dashboard, simply click the inriver logo in the top left.

Toolbar

The right-hand side toolbar contains icons that provide easy access to the following inriver features:
Click the links above to read more about each feature.
Note:
In the restyled Enrich and Plan & Release, the top navigation toolbar contains additional feature shortcuts to the
Query Editor
and the
Create new entity
view.
Further reading