This article provides an overview of the Syndicate add-on functionality. It also lists the benefits of using Syndicate.
About inriver Syndicate
inriver Syndicate automates the distribution of product content to channel partners, online retailers, and third-party marketplaces. With a simple, easy-to-use mapping interface, it provides powerful data transformation functions available in multiple delivery options like FTP, standard extensions like JSON or XML, and offers the ability to add custom extensions.
Retail partners and third-party marketplaces like Amazon receive product content to provide consistent and compelling product experiences. Syndicate streamlines inefficiencies by removing manual data entry and the risk of error that comes with it.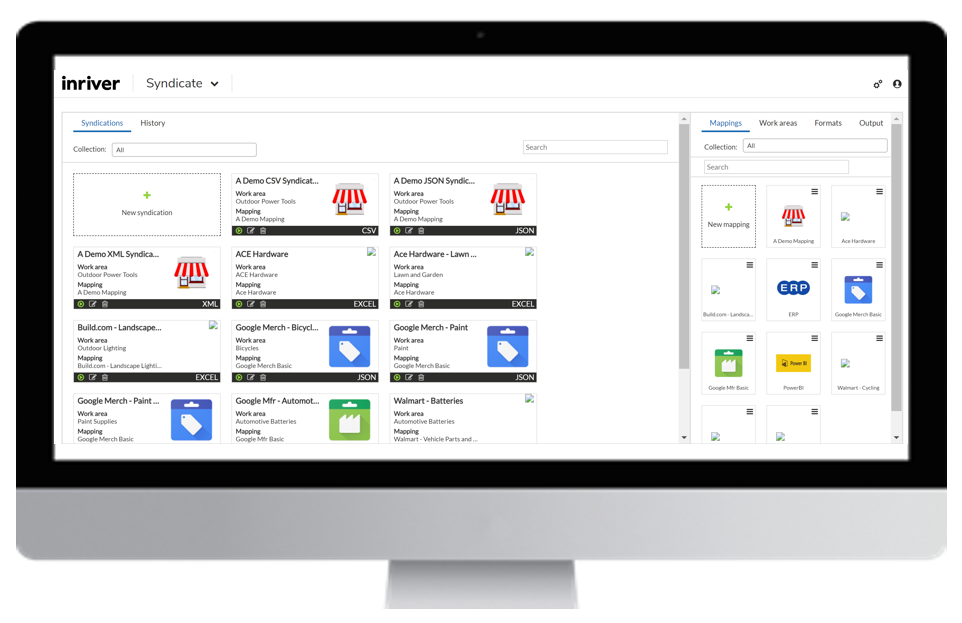 Benefits of using inriver Syndicate
There are many benefits to using Syndicate:
An easy-to-use mapping interface.
Powerful data transformation functions.
Multiple delivery options out of the box: FTP, SFTP, FTPS, Azure Blob, and HTTP Post.
Standard extensions for JSON, XML, CSV, and Advanced Excel
outputs.
Ability to add your own custom extensions.
Helping product marketers
inriver makes it possible to create engaging rich product content that really sells products. With Syndicate, getting that product content out to where it needs to go is easier than ever.
In the end it means quicker time to market, and that is often the difference between success and failure in a new retail channel.
Time to market
Achieve quicker time to market no matter where product info is being distributed.
Automation
Drastically reduce manual workload and the user input mistakes that go with it.
Consistency
Ensure your products are always presented correctly and consistently regardless of channel.
Video tutorial
Learn more
Syndicate is an inriver add-on functionality that can be added to your license.
Are you interested in more information about our add-on functionalities or would you like to book a demo? Do you want to learn more about how inriver helps product marketers deliver better product stories? Contact us or Book a Demo.
Check out more information about Syndicate and download the full Syndicate datasheet here.
Get an inriver license to view below content: